Quality assurance in vocational education and training in European countries
The importance of quality assurance in vocational education and training
Ensuring a skilled workforce is essential for growth and competitiveness European labour market. One of the fundamental freedoms of the European Union is the free mobility of workers. Ensuring of quality vocational education and training (VET) throughout the EU is defined as common goal of all Member States, as evidenced by European documents (European Skills Agenda, 2020; Council Recommendation on vocational education and training for sustainable competitiveness, social fairness and resilience, 2020;…).
Quality of VET is gaining in importance as many current occupations disappear, new ones emerge and employers and individuals are facing pressure due to green and digital transition and a pandemic of COVID-19.
This pressure also affects European education systems, which has been adapted to provide required skills, but also transversal skills that support the flexibility of individuals at the labour market and protect individuals from unemployment.
At the same time, learning and job mobility within the EU have increased demands on the transparency of VET systems, their understanding and mutual trust between states and VET providers.
EQAVET – a successful initiative of the European Commission
As an answer for this demanding questions, building of previous documents of European institutions (e.g. Copenhagen process, 2002; Maastricht Communiqué, 2004; Bordeaux Communiqué, 2008) the European parliament and the Council have adopted the Recomendation on the establishment of a European Quality Assurance Reference Framework for Vocational Education and Training in 2009.
The Recommendation invites Member States to use a series of indicative descriptors and indicators to support and develop their VET systems. The Recommendation serves as a tool that provides guidance on how to develop a quality assurance systems and contains examples of different approaches used by Member States.
Between 2015 and 2017, the EQAVET Network reflected on the need to be more explicit about the importance of aspects of training/learning; and suggested an EQAVET+ approach that complements the EQAVET Recommendation and help Member States to further strengthen their quality assurance approaches in line with EQAVET.
There is an appointed national reference point (NRP) for EQAVET by national authority in charge of vocational education in every member state. The role of EQAVET NRP is to support implementation of the Recommendation at national level through linking national stakeholders in VET and also to strengthen synergies between national stakeholders and European cooperation.
EQAVET NRPs create the EQAVET network where cooperate on international level and exchange good practices in quality assurance (QA).
After more than a decade of implementation of the Recommendation on national level and transnational cooperation within EQAVET framework, the EQAVET Recommendation has became the part of the Council Recommendation on vocational education and training (VET) for sustainable competitiveness, social fairness and resilience (2020).
Quality cycle as a main principle of EQAVET
The quality cycle is a basic principle of quality assurance in VET – on VET providers´ and/or system level. EQAVET cycle is based on four phases – planning, implementation, review and evaluation.
The first phase – Planning – includes set up clear, appropriate and measurable goals and objectives in terms of policies, procedures, tasks and human resources.
During the Implementation, the second phase, procedures to ensure the achievement of goals and objectives are established (e.g. development of partnership, involvement of stakeholders, allocation of resources, and organisational or operational procedures).
Assessment and Evaluation are the third phase of EQAVET cycle. In this phase the mechanism for the evaluation of achievements are designed by collecting and processing data in order to make informed assessment.
The final phase – Review – includes the steps before the cycle starts again: develop procedures in order to achieve the targeted outcomes and/or new objectives: after processing feedback, key stakeholders conduct discussion and analysis in order to devise procedures for change.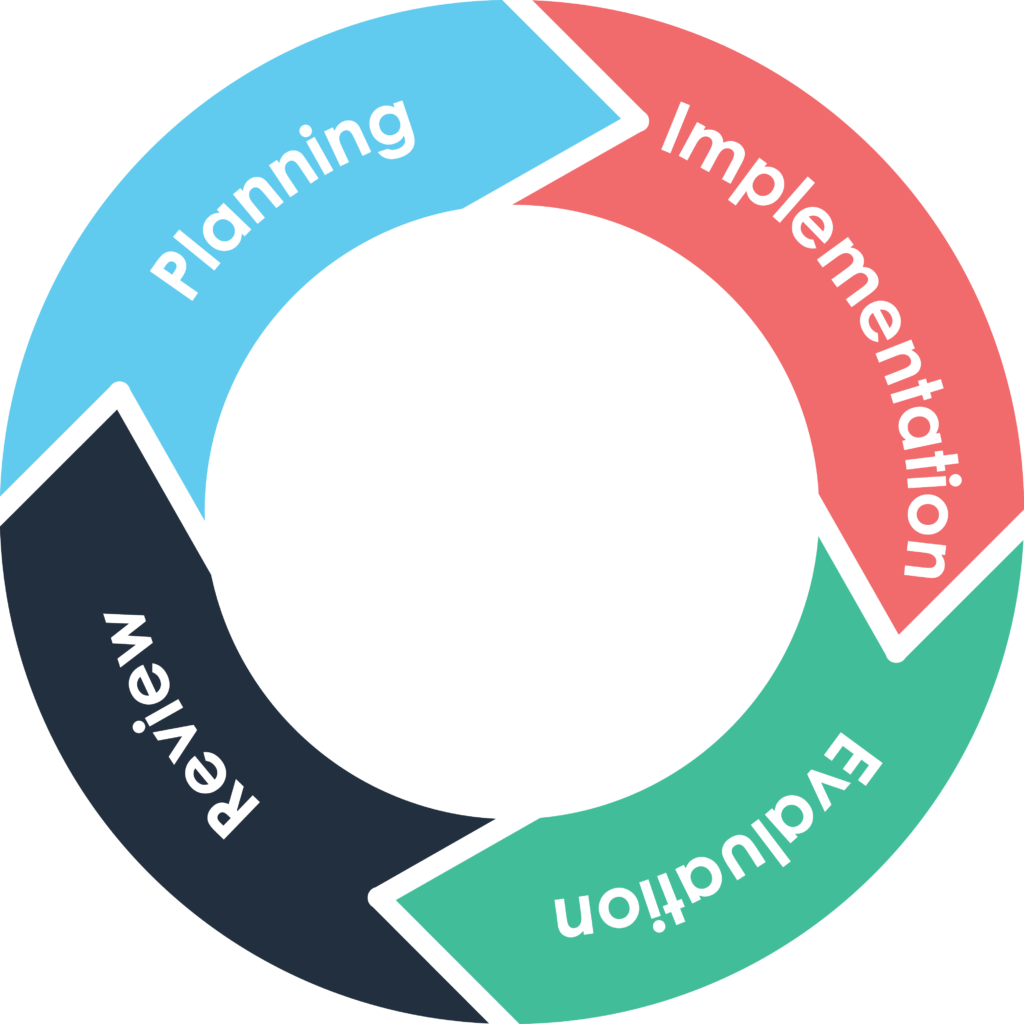 EQAVET cycle provides the single steps to ensure and increase quality of institution/system. The cycle repeats in regular period (e. g. a half of the year, one school year, or longer period – 2, 3 years.) depending on institutional needs and nature.
Peer Review – a method of quality assurance
Several methods of quality assurance in VET have been developed within the EQAVET framework. One of the most successful and known methods is Peer Review – a form of an external evaluation of institution by trained peers (colleagues/equal persons) that is based on friendly and non-judgmental approach. Peers evaluate only the areas that institution wishes to be evaluated and provide the recommendations and possible solutions of named issues. There is 14 defined and described areas of QA within Peer Review method. Recently, the 15th area, work-based learning has been added among the compulsory areas (4). Other 10 areas are voluntary.
Peer Review method is based on four phases including the visit of evaluated institution and interviews with different actors connected with institutions (e. g. teachers, learners, parents, employers, trainers, …). Peer Review should be repeated to measure the success after the implementation of recommendations.
Peer Review provides the whole set of tools/documents, including the Manual which has been translated to 14 languages. Peer Review might be used in initial VET as well as in adult learning and the method is usually adapted on its current purpose.
Other quality assurance tools
There is a lot of tools of QA developed or adapted under EQAVET framework. The most significant are EQAVET cycle, Peer Review, graduate tracking, exchange of good practices and national and transnational network.
This section provides just a very brief overview of information on QA in VET.
The QUANTUM project builds upon a verified practices of QA in VET including transnational cooperation, quality network, graduate tracking, feedback loops (EQAVET cycle) and Peer Review.
For more information, please, visit the section Resources/Reference, Project results, websites of project partners or contact directly project partners (section contact).